Available in several shapes and sizes and emitting beautiful, rich colors, a Himalayan Salt Lamp not only looks warm and welcoming, but it has beneficial health properties. Himalayan Salt Lamp in your home or office naturally improves your indoor air quality by creating healthy negative charge. The bigger the salt lamp the bigger the effect is.

The beautiful glow from our Rock Salt Lamps will bring a tranquil ambience to your home. Rock Salt lamps are best placed near televisions and computers, around smokers, in offices with air-conditioning, in fact anywhere you want to restore or preserve the natural air quality.
Each Rock Salt Lamp is unique and hand carved using salt extracted from the foothills of the Himalayan Mountains. Rock Salt Lamps come in several popular shapes that will transform any space and enhance your visual experience.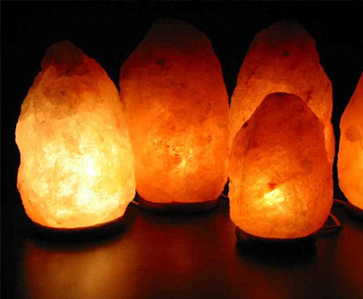 We are providing the real rock salt lamps we have many recognition to prove it is the real one such as a real pink salt only mined from khewra in Pakistan, Our salt lamp gives off dim light it does not provide enough light to illuminate the room it will get affected by a collision because Himalayansalt lamps are highly durable and it must have moister resistance a true salt is prone to some sweating when exposed to moisture sources.